Autism or autism spectrum disorder is a complex neurodevelopmental disorder in children, which is get diagnosed by the first 3-4 years of the child's life. Children who have autism symptoms may find difficulties in understanding simple commands or daily communication which are used in day-to-day life. We at Tender Kids provide the Best Autism Treatment In Mumbai, Navi Mumbai with the new edge and unique Dew Drops ABA techniques.
Children usually face trouble in understanding beyond the accurate or we can say the literal meaning of emotions, things, and even instruction. This will may lead them to appear as having difficulty in knowing and understanding, social interaction, speech, problem-solving, and behavior.
This may not seem like a life-endangering condition. it surely hampers the growth of the child and its usual functioning, which may cause them to be dependent on their caregivers for their activities of daily living. Children with Autism need special attention and a transformed approach to being prepared for the normal day-to-day activities and hypothetical concepts for facilitating a more inclusive social and scholastic atmosphere for them.
Our child development center provides comprehensive Autism Treatment In Mumbai, Navi Mumbai with the utmost care, we have all well-trained and experienced autism doctor in Mumbai, Navi Mumbai.
WHAT ARE THE TYPES OF AUTISM
Tenacious challenges are varying from difficult to moderate deficit in the interaction and social communication, beyond several contexts are the characteristics of Autism accompanied by the need for equality, or routine which will trigger an excessive response, when tampered with.
Autism Treatment In Mumbai covers the following conditions-
Childhood Disintegrative Disorder
Autistic Disorder
Rett Syndrome
Pervasive Developmental Disorder
Asperger's Syndrome
WHAT ARE THE SYMPTOMS OF AUTISM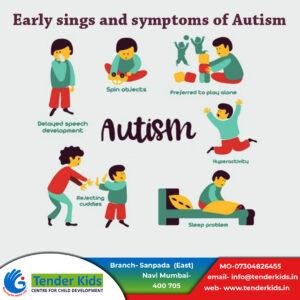 The earliest signs of Autism could be acted by a lack of eye contact or a lack of responsiveness. Children with autism in the initial stages may not confer any response to name or watch directly at the person when spoken to. But in some cases of Autism, The symptoms may present as a regression of cognitive and social milestones between the age of two to fours years, where the child development seems to be on track. though he or she begins to slowly lose the milestones.
Here are the most common symptoms of Autism suggested by Autism doctor in Mumbai –
Poor Eye Contact
Occasional Communication
Poor Social Interaction
Self-infliction of pain
Loud Noises Sensitivity
Lack of Response (sometimes to own name)
Impaired Communication (verbal or non-verbal)
Regression, Lack or Delay of Speech Development
Excessive attachment with material things and reduced human relationships
Aggressive behavior like Throwing Objects, Pulling others Hairs, biting, etc
Repetitive actions such as running in a circle, rocking, hand flapping
WHAT ARE THE CAUSES OF AUTISM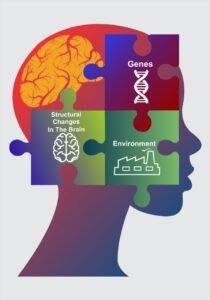 The causes of autism have always been debatable and cannot be assigned to a single known cause. There are some extracts brought forward by researchers, scientists, and professional doctors which assign the causes to functional or structural injury or any type of damage in the brain. The difference in the structure of a gene often called mutation in medical terms can be responsible for abnormal brain development and that leads to autistic features.
Some non-genetic factors like some perinatal difficulties such as parental bleeding in between 3 months into the pregnancy, It is very essential to understand that no particular person or event can be held responsible for the child's diagnosis. The essential investment in the child's care and the treatment can go a great milestone in treating a child with autism. It is always advisable to consult the best autism doctor in Mumbai, Navi Mumbai as early as possible to get the best Autism Treatment In Mumbai, Navi Mumbai for complete recovery from autism.
The main risk factors for causes of Autism are-
Family History of Autism
Metabolic Imbalance
Toxins Exposure & Heavy Metals
Low Birth Weight of The Childhood
Genetic factors like Fragile X Syndrome
Higher Maternal Age at The Time of Conception
HOW IS AUTISM DIAGNOSED
The Diagnosis of Autism is mainly based on medical or clinical observations of behaviors and symptoms. which your autism doctor in Mumbai, Navi Mumbai will perform to give you the best autism treatment in Mumbai. Autism is defined as "Spectrum" as the signs and symptoms of Autism Spectrum Disorders differ from mental delays to the highly intelligent, that's why while diagnosing Autism, the triad of impairment is considered first. and others difficulties like communication, Social Interaction, and restricted behaviors in activities.

ABA Autism Treatment in Mumbai by Tender Kids
For the first time in Navi Mumbai, Tender Kids – CDC in association with Dew Drops Child Health Care is offering ABA (Applied Behaviour Analysis), ABA is an evidence-based U.S certified intervention program for Autism to provide the Best Autism Treatment In Mumbai, Navi Mumbai.
What is ABA?
"ABA" stands for Applied Behavior Analysis. It is a set of principles that form the basis for many behavioral treatments. ABA is based on the science of learning and behavior. ABA therapy is used to increase language and communication skills. It is also used to improve attention, focus, social skills, memory, and academics. The successful results of ABA are documented in Autism over the past 50 years, which has made ABA the standard of care for the treatment of ASD (by "Behavior Analyst Certification Board, Inc.").
Dew Drops is India's Largest Organization providing Applied Behaviour Analysis (ABA) Therapy for Special Needs Children with 18+ years of experience with around 16+ centers nationwide. A qualified and trained behavior analyst (BCBA) designs and directly oversees the Program. The ABA program is customized to each learner's skills, needs, interests, preferences, and family situation. Various behavioral programs – individual or in combination are used as per the need of the child.
Visit Our child development center for the best Autism Treatment In Mumbai, Navi Mumbai.
WHAT IS SO UNIQUE ABOUT DEWDROPS ABA AUTISM TREATMENT IN MUMBAI
A unique data collection method was developed with the help of international experts in the field of Behavior Analysis.
In-depth understanding of various developmental disabilities and speech delays.
Complete transparency of the Child's sessions. Open for observation by parent/guardians.
Individual attention to parents' concerns and child by our mentors who take care and timely inform parents about the development.
Instead of following Discrete Trial Training (DTT), a combination of various methods and techniques learned through various training and tested over 18 years of experience with over 3500+ children unique to the Indian environment and context.
Regular performance mapping to measure goals and milestones.
Nearly 100% results in speech therapy.
Feel free to consult our autism doctor in Mumbai for the Best Autism Treatment in Mumbai, Navi Mumbai.