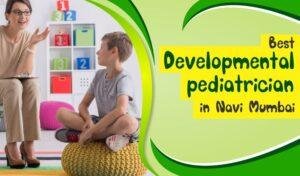 Tender Kids is one of the best specialty centers for Developmental Pediatrician in Mumbai, Navi Mumbai. Our focus is on children experiencing developmental issues and with special needs. A recent survey conducted showed that lesser than 30% of cases where the child suffers from developmental issues are reported before entering school. Our goal is to make each day innovative for children with simple and latest techniques to help them out from complex situations.
If you are looking for a Developmental pediatrician in Mumbai, Navi Mumbai you are in the right place.
We at Tender Kids- Child Development Center (CDC) in Navi Mumbai, Mumbai are providing a multi-disciplinary approach toward the special needs of children. Our mission is to facilitate childhood disorders and disabilities through organized systems. We provide well-customized care to every child with kinds of neurodevelopmental disabilities and disorders.
Tender Kids is one of the leading names in the Developmental Pediatrician in Mumbai, Navi Mumbai. Considering the location, we could foresee the need for a comprehensive center for children with developmental disorders for the people of Mumbai. Hence, the related efforts acquired a distinctive form, and Tender Kids was established to fulfill the needs of the same.
Since its inception, "Tender Kids" has always believed that experience and expertise in healthcare is an act of care and compassion whereby patients, Doctors, and staff are at its core.
Why You Should Choose Tender kids- Best Developmental Pediatrician in Mumbai, Navi Mumbai
We Believe that children are not limited by any type of their Neurodevelopmental Conditions, but sometimes because of the limiting environment and some of the perceptions that the child and their family face. Tender kids don't just live to change these notions about Autism, Speech Delay, Intellectual Disability, Mental Retardation, Learning Disability, Behavioral Disability, Special Needs, and Spread Awareness. We also build holistic and sustainable types of methodologies for improving any child suffering from a developmental disorder to learn better.
Things to know when you are looking for a Developmental Pediatrician in Mumbai, Navi Mumbai
When your child is suffering from any of the above disorders you just need to visit a specialty center for Developmental disorders. When choosing the best developmental pediatrician in Mumbai you need to know the difference between a Pediatrician and a Developmental Pediatrician. Following are the checklist:
Scope of Services
Profiles or Qualification of Specialists
Available Treatment methods
Technical staff
Credibility of Center
Experience and Expertise of Developmental pediatrician
Tender Kid provides quality and caring service at affordable prices. We always stay up to date and adapt ourselves to the advancement to deliver the best to children to perform even better. The range of treatments at Tender Kids is dedicatedly designed to meet the patient's needs.